Reading nook ideas can give you the inspiration to create a reading space for your kiddos. This great idea can help your kids in getting reading habit.
---
Reading Nook Ideas
---
By having their own room to read what they like, it will increase their interest in broadening their knowledge.
It will also be their space to learn and play as well.
1. Hallway Reading Nook
If you don't have large space for your reading room, you can use the hallway in your home. You can use the shelves by framing it in your windows.
Using a small storage below and giving small day bed to make it more comfortable.
2. Closet Reading Nook
This is the common reading nook that you can build inside the house. For a kid, you don't need a large room.
You can simply build it inside the small closet with a height shelf next to your kids' bedroom. You can give it a door or let it open to make it more reachable.
3. Perch Reading Nook
A kid will sometimes imagine having a tree house. With this idea, you can make a tree house reading nook room for them.
This reading spot will be as adventurous for them as they can use it like reading and playing at the same time.
Giving furniture like ladder can make this room more attractive.
4. Peewee Teepee Reading Nook
This cute peewee teepee will really a good idea if you don't have any space at home. You can build one peewee teepee tent inside the bedroom and put a small shelf full of book.
Your kids will be really love this reading nook since it looks unique.
5. Attic Space Reading Nook
You can create a small hide way in your existing storage inside the bedroom. Then you can convert this place as the reading knot.
It doesn't matter if the storage is above the bed, you can give it a door as the coverage so the book will not falling down when your kids sleeping.
You can also use your vintage chest as a storage for some learning materials, like board games and some books, such as texture books for pre-schoolers.
6. Wooden Pallet Reading Nook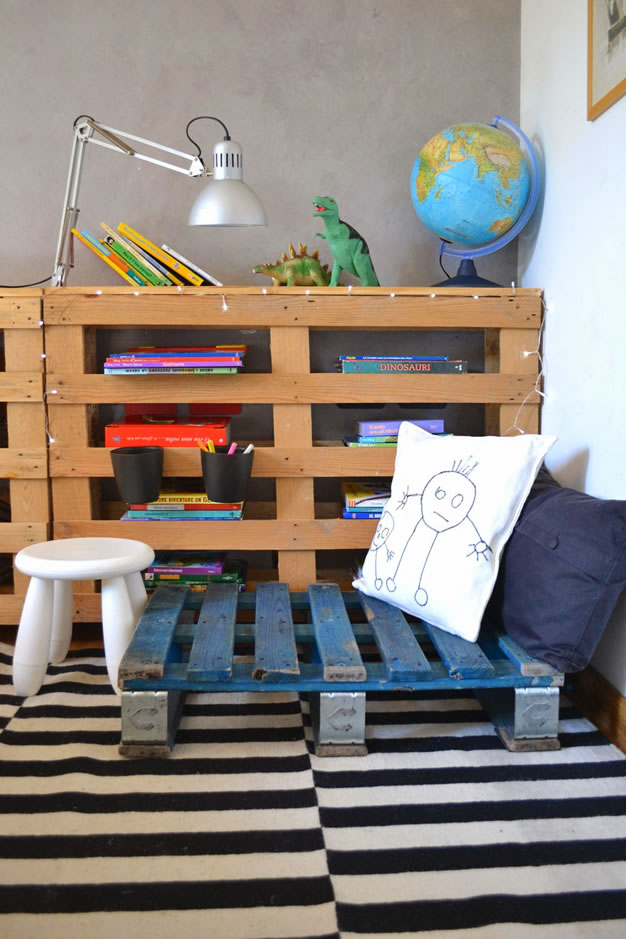 Wooden reading nook can be created by yourself. You can find many DIY wooden shelf, table, and small chair.
This can be great if your home has a traditional interior design or if you might like classic look. Using an attractive and bright color will make it more fun.
7. Window Reading Nook
Maximizing the windows by giving shelf as the frame is good idea. This reading nook can be great because the reader can see the view outside.
You can add a comfortable chair or couch near the window and a small cabinet for books and magazines.
Adding a throw pillow with a tribal or Bohemian pattern is also a good idea to add creativity to your window reading nook.
8. Simple Shelving
Just put a simple shelving on the wall and put some story book. You can pace it in the corner of the bedroom or your living room.
9. Lived-in Reading Nook
One of the best way to avoid children from watching TV is by having this living room reading nook. You can give a comfortable and attractive pillow with some books in small rack.
One good example is a neck roll pillow. This pillow is comfortable and easy to use, perfect while resting in the lived-in reading nook.
By doing this, you can make your reading nook a comfortable and fun place to read and bond with your children.
10. Outdoor Reading Nook
Having an outdoor reading nook will decrease the boring feeling when reading. The fresh air from the tree will become the most convenient ambience.
You can turn your enclosed patio into a reading nook by installing a bookshelf. In addition to that, you can also include fun memory games, like puzzles, scrabble, chess, and building blocks to make your outdoor reading nook a great place to learn and enjoy.
Conclusion
A reading nook is the best place to have fun and explore through books. You can make this space suitable for young children, teenagers, and adults.
With the ideas suggested above for creative reading nooks, you'll make a special educational corner for everyone to relax and learn new things.